Want to produce audio for film? A great new course has been released on Tuts+ Premium: "Producing Great Video". Audiotuts+ author Jonah Guelzo was involved in the project, which includes two full chapters about sound. It's definitely worth checking out!

Video production is becoming more and more accessible. That's great news for audio guys as well - every video requires audio production and backing tracks. Do yourself a favor and make yourself more aware of producing audio for video - and the video world in general.
Whether you're dreaming of becoming a sound editor, mixer or composer, understanding the creative process of film will help your career. You'll find it invaluable when you are working hand-in-hand with directors and film editors.
"Producing Great Video" contains over two and a half hours of training. As you work your way through the 50+ easy-to-digest lessons, you'll master the basics of video production.
---
Course Introduction
Course Overview
Writing Your Script (Preview Videos: Introduction, The Laptop Conspiracy Short Film)
Developing Your Project
Managing Your Production
Camera Parts and What They Do (Preview Lesson: Camera Functions)
Camera Work and Shooting Principles (Preview Lesson: Camera Movement)
Lighting Your Scene and Subjects (Preview Lesson: Backlit Video)
Directing Actors and Crew (Preview Lesson: Film Language)
Recording On Location Audio (Preview Lesson: The Art of Booming)
Editing Principles
Post Production Sound
Effects and Motion Graphics.
---
Watch The Laptop Conspiracy
A fun short film created as a running example of all the techniques taught in the course, watch The Laptop Conspiracy to get a preview of the kind of video you'll be able to make with the knowledge gained from Producing Great Video.
---
Watch the Full Course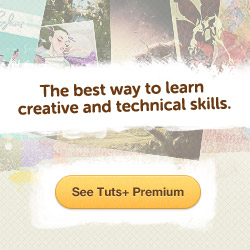 The recently re-launched Tuts+ Premium is a service that provides top-tier training in a variety of creative fields. Whether you prefer eBooks, visual training, or in depth tutorials, we have you covered. While we unfortunately can't afford to provide the service for free, it's only $19 a month – less than you'd spend on dinner.
Become a Tuts+ Premium member to access Producing Great Video